Listen. Empathize. Act. Drive.
youthLEADarts is a network of Canadian young people who work together, through the arts, to encourage and support one another as they emerge as the LEADers of tomorrow. These diverse individuals are brought together and mentored by Artist- Educators who facilitate each participant's journey of self-realization and learning.
The focus of youthLEADarts is under-resourced young people. This could mean someone who lives in a community that is inner-city, rural, or remote. It also includes those who feel outside 'the dominant social norms' (for example: culture, language, religion, ethnicity, socio-economic status, able-ness, gender and sexuality).
LEAD is a method to create change on 2 levels- within the individual participant and in their community. The acronym stands for Listen, Empathize, Act, Drive. It empowers young people, giving them the skills to become LEADers and effect meaningful and positive impact in their worlds.
Please consider becoming part of our growing inatiative… keep reading to learn how!
what does LEAD stand for?
Listen. Empathize. Act. Drive.
Listening is as important as speaking when communicating. 
What do you think is important when you listen?
Empathize means imaging how someone else feels.
How does it make you feel when someone does that for you?
Actions speak louder than words. What is it that you want say? 
Drive yourself and your idea to completion.
What gives you the power to keep going?
Elijah, 23, is a recent graduate of Trent University in Math and Spanish (a passion he developed whilst there). He first joined Marilyn Field's empowering arts education program as a 12-year-old who was living in a marginalized Toronto suburb.  On program days, Marilyn would call him early in the morning to make sure he got on the bus for the daylong workshops in downtown Toronto. Through the arts education program, he was able to realize what was possible regardless of the odds and pursue that which he wanted without fear. 
Today, we are so proud of him for finding his inner leader to stay in school and succeed, as well as find his passion for writing poetry, swimming, and mentoring other young people. As you watch him speak, you can feel his passion to reach out to others.
Submitted with pride, 
Marilyn
Up-Coming LEAD workshops!
Though Covid has us limited in our social activities, but you can still make new friends from ALL OVER CANADA with interests similar to yours with LEAD's online Workshops.
 "Given the opportunity, the arts can absolutely empower children, changing their lives for the better," -educator and musician Marilyn Field. 
Founder and Mentor of LEAD Marilyn Field MSM Creates Opportunities for Candian Youth
LEAD is an acronym that brings the  Listen, Empathize, Act and Drive together as a pathway for all leaders. The brain-child of visionary Marilyn Field MSM, this educational framework helps participants plan, implement and reflect upon their own voice and build their own inner leader to impact their communities.
A classically trained pianist, Marilyn was from a young age "that quiet one" who learned to accept challenges like losing her mother when she was two and who the other children looked to for learning and leadership.  And LEAD she has!
In 1994 she created a ground-breaking program for students at-risk. It is called DAREARTS. Since its inception DAREARTS has engaged over 220,000 young people across Canada  a lifelong motivation for creative thinking and excellence in their lives and communities. 
Her international recognition as a leader in the field of arts education includes being invited to conduct the Nobel Peace Prize's 100th anniversary choir, which was composed of children representing 23 countries. Her lifetime reward has been hearing children proclaim, "… I am a Leader!".
In addition, Marilyn has served on the boards of Opera Atelier, Toronto Senior Strings, The Ontario Speech Foundation, Theatre Orangeville and the Esprit Orchestra (Chair). She worked in conjuntion with the Stratford Festival, Headwaters Arts Festival and Headwaters Health Centre, and she has helped seed numerous other arts organizations. In 2013, she gave the University of Toronto's Convocation Address.

Marilyn Field was awarded the Canadian Meritorious Service Medal by the Governor General in 2003 and both the Queen's Gold and Diamond Jubilee Medals. In 2013, she was the inductee of the Caledon Walk of Fame, with a stone along the Trans Canada Trail.

In continuation of her journey of leadership, Marilyn is proud to mentor a national circle of youths and arts educators who have created the #youthLEADarts project to lead us all into a brave new world of discovery.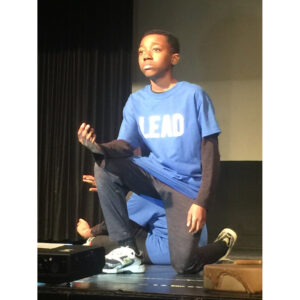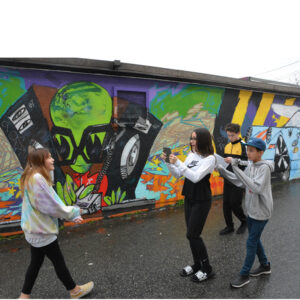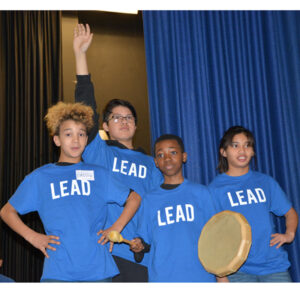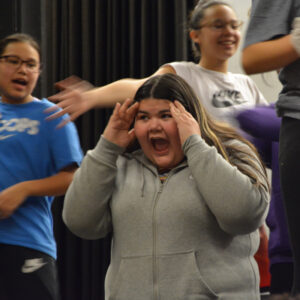 See yourself and your friends featured on our website by using our hashtag #youthLEADarts in your arts and leadership posts.
Make sure it is OK with your adults first, and check its alright with the people in your pictures and videos too. We have a privacy policy- you can check it here. And please make sure the content is "family friendly". 😉
We leave the last word to our students from Quebec....
Contact us to find out more.
We are looking forward to answering your questions.
We leave the last word to our students from Quebec....